UniSA VCIE Scholarship student wins prestigious Merdeka Award 2019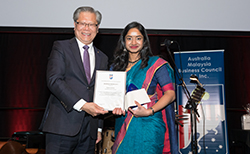 There's no stopping Bachelor of Commerce (Accounting) student Mytheli Parthiban from Malaysia. Not only is Mytheli a recipient of the highly competitive Vice Chancellor's International Excellence (VCIE) Scholarship, she was recently presented the Merdeka Award 2019 by the Australia-Malaysia Business Council of South Australia.
The Merdeka Award is presented to outstanding final-year Malaysian students living and studying in Adelaide. Applicants are assessed on their academic achievements, extracurricular activities and efforts in promoting Malaysia and the relationship between Malaysia and South Australia.
"Before I came to Adelaide, my parents were very worried as this was my first time going overseas and studying in a different culture and environment," says Mytheli. "Receiving this award has proven to them that I've made good use of this opportunity. And I'm really happy that I was able to make them proud this way.
"As a Malaysian, I was very honoured to win. I think this is a great platform for me to further promote Malaysia in South Australia."
During her time at UniSA, Mytheli has fully explored many options to gain experience and engage with the community.
"Studying at UniSA has been great. I got to experience new opportunities that I wouldn't have thought I'd be able to do. For example, I was able to take on an internship at a financial services firm here in Adelaide. It was a very good experience because the semester before my internship I studied Taxation Law and during the internship I worked with the accounting team doing tax returns for clients. So what I studied I got to apply directly."
Other opportunities Mytheli has explored include doing a research placement on the topic of Sustainability Accounting and participating in a Business Career Mentorship program at UniSA Business. "All these things enhanced my experience as a student at UniSA," says Mytheli.
When asked if she has any advice for future international students, Mytheli counsels, "I would like to tell future international students that UniSA provides a lot of opportunities. It's not about you sitting down and waiting for them. So my only advice is to be more proactive and seek as many opportunities as you can and make full use of them."
Looking ahead, Mytheli plans to sit her professional papers upon graduation and is interested in specialising in forensics accounting.