Hacking health service delivery in Australia
2020 may be the year of innovation and adaptability. As the COVID-19 pandemic sweeps across the globe, we have seen many resourceful adaptations take place as we adjust to life unusual. One of these was the National Innovation Games.
With restrictions on movement and social distancing measures in place, the annual conference was re-imagined as a virtual online hackathon in May of this year. Master of Health Services Management students Benedict Okonjo and Diana Mehta participated in two events: "Surfacing a full range of healthcare services for all South Australia" (May 7, 2020) and "Business Resilience: Optimising Essential Services" (May 21, 2020).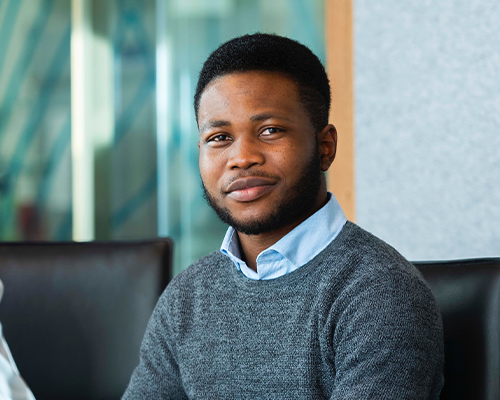 How did you hear about the hackathon and why did you decide to participate?
Benedict: I learnt about the National Innovation Games through my Program Director and the Student Engagement Unit Newsletter. I decided to participate because I saw the event as an opportunity to connect with people from industry, apply my skills in health services management, learn new skills such as design thinking and make some new friends.
Tell us about your team, the issue you were given to solve and how you worked together.
Benedict: The challenge topic of the hackathon I attended was to explore how we might use scalable technology to optimise health service delivery in SA.
We were a team of five students together with one facilitator, one mentor, and three industry experts. We spent the whole day brainstorming ideas on how to best to tackle the challenge topic, after brainstorming we consolidated our ideas into a solution, created a pitch and presented to a judging panel and an audience of over 250 people online via zoom.
Diana: My team comprised of seven students from various parts of Australia with varied skillsets and backgrounds ranging from sales, technology and healthcare. We designed an innovative and practical solution for Neilson's Pharmacy.
The key challenge face by the pharmacy was power outage, such as during bushfire season. This was a concern for refrigeration of medication and to continue providing an essential service to the rural community. The team developed a community-focused solar panel plan for providing energy during times of crisis to all the identified essential service providers in Yarram. This model also helped reduce set-up costs significantly. We presented our ideas and solutions to a judging panel and won the event!
How did the actual event measure up to your expectations?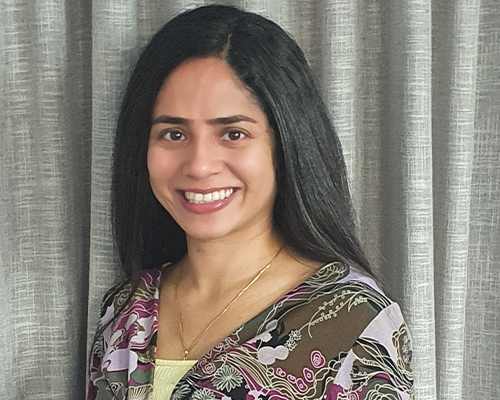 Diana: I expected to build my network with potential employers, peers, industry and government. Also, I hoped to learn more about practical tools and skills in innovation, design thinking and virtual platforms.
At the end of the actual event I believe I gained invaluable experience and exposure to real-world business challenges, which places me in a better position for employment. My expectations were surpassed. I couldn't believe I learnt so much from experts in the industry within 10 hours!
As a Master of Health Services Management (IMHM) student, how do you think you benefited from participating in this hackathon?
Diana: As an IMHM student, this hackathon gave me the opportunity to grow my network and make connections with people from the industry as well as other fellow students. My LinkedIn account was beeping with new messages and connections. I got a chance to test my leadership skills amongst many others and a feel for working in the industry in Australia by tackling this real challenge faced by the community.
What was your one best thing about being a part of the hackathon?
Benedict: I really liked the fact that the solution we came up with was going to be applied to solve real world challenges in health. Giving that assignment to teams of emerging leaders to solve ignites a motivation like nothing else can.
Diana: The one best thing for me would be the feeling of contentment of being able to give back to the community and contribute towards supporting a local Gippsland business affected by bushfire and COVID-19. The opportunity to innovate alongside Nielson's Pharmacy, a family-run Yarram business that has had deep connections to the local community for over 40 years was truly glorious.