START YOUR STUDY ABROAD
SEMESTER ONLINE
START ONLINE IN 2021, TRANSFER TO ADELAIDE IN 2022
A lot of us have had to change our plans due to COVID-19, but your life is not on hold. Don't sit back and let time pass you by. Make the most of every opportunity and emerge from this year in the best position possible!
Here at UniSA we're adapting and doing things differently so that you can still pursue your goals.
Apply now for UniSA's Study Abroad Package. You'll get a head-start on your study abroad semester and gain extra credit at no extra cost! We're making changes, so you don't have to live your life on pause.
APPLY NOW I ALREADY HAVE AN OFFER
WHAT IS THE STUDY ABROAD PACKAGE?
The Study Abroad Package gives you the opportunity to study ONE course online in 2021, and transition to on-campus studies in Adelaide in 2022 for an in-person semester. International travel may still be restricted, but your Australian adventure is waiting for you – get prepared now and join the UniSA community early!
The program fee for the Study Abroad Package is the same as it would have been for your in-person study abroad semester. Only difference? You get to study an extra course online!
There are two packages to choose from, depending on how many credits you want to receive towards your home degree, or how much funding you have available. Both options offer you the same fantastic experience online and in person.
Standard Study Abroad program
**NEW**
2021 / 2022 Study Abroad package
3 x courses
(13.5 UniSA units)
(≈ 22.5 ECTS)
AU$7,425
1+3
(4x courses – 18 UniSA units)
(≈ 30 ECTS)
AU$7,425
4x courses
(18 UniSA units)
(≈ 30 ECTS)
AU9,900
1+4
(5x courses – 22.5 units)
(≈ 37.5 ECTS)
AU$9,900
WHEN CAN YOU START?
There are two intakes to choose from for your online studies in Semester 2, 2021.
Study Period 4 to start in June
28 June to 03 September, 2021
Study Period 6 to start in September
20 September to 26 November, 2021
Once you complete your online semester, you will be admitted to the in-person program for Semester 1 (Study Period 2), 2022
Study Period 2 to start in February 2022
28 February - 2 July, 2022
28 February - 11 June*
*Business and Law only
WHAT CAN YOU STUDY?
The Study Abroad Package is available to students in the following study areas; Business, Arts, Law and Social Sciences, IT, Maths and Science, and Education. Choose your UniSA Online course from the lists below, and then select your on-campus courses from the usual selection available here
The program is not available for Engineering or Health Sciences.
WHY SHOULD YOU START ONLINE?
We know you can't wait to experience all that Adelaide and South Australia has to offer and we're excited to share it with you!. But did you know that there are a number of benefits in undertaking an online study abroad semester that will set you up for future success.

Here are some of the skills you will gain in your online semester with us.
Organisational / time management
Working remotely with an international team is a skill that employers value, as more work-places move to remote, or hybrid, work styles.
Your first subject will be delivered by UniSA Online, guaranteeing you a fantastic online learning experience. UniSA Online has a 92% student satisfaction rate for support and resources, and a 90% student satisfaction rate for teaching quality. You'll be able to access course content anytime, anywhere.
No need to put your life on hold,
join our vibrant community now
Access support 7 days a week
and view learning resources 24/7
| | |
| --- | --- |
| | Transfer to on-campus study later |
| | |
| --- | --- |
| | Extra credit for the same on-campus program fee |
ADVENTURE AWAITS YOU IN ADELAIDE
Your semester in Australia is the experience of a lifetime. Once you've completed your online subject you'll be on your way to joining us here in beautiful Adelaide where we are excited to welcome you.
Adelaide is the perfect place to base yourself for your semester, offering pristine beaches, rugged outback, wild forests and some of the best urban life in the country.
UniSA provides a welcoming community, helping you to get settled from Day 1. We run a number of events across the semester so you can meet Aussies and other international students, forming friendships that will last a lifetime.
Adelaide has been ranked as the world's 10th most liveable city*, and with access to some of the country's best wine, gin, and nature, it's not hard to see why!
*2019 Economist Intelligence Unit's Global Liveability Index
HEAR FROM PREVIOUS STUDY ABROAD STUDENTS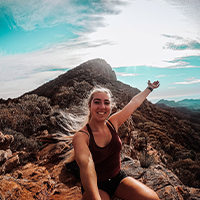 "I have changed completely since I left the Netherlands and I am now a better version of myself. I have made friends from all over the world and I am sure they will come in handy later on in my life. UniSA has not only given me the opportunity to reexplore myself, but I have also gained new insights on the theory we've learned in class."
Amber Verstegen, the Netherlands
"I love how UniSA puts a lot of focus on connecting theory with practice. So, I will have more understanding about the theory I learnt at UniSA."
Alena Kreuzer, Austria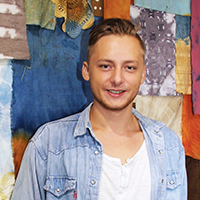 ​"Adelaide is big, and there is a lot more to it than just the city centre. There is a lot of variety and you can easily get to the beach within twenty minutes by tram or bus. If you want to relax, it is easy to get away for a while."
William Bredberg, Sweden
ARE YOU READY TO APPLY?
Choose your study area
Start online and join us on campus later. See a full list of available online courses here.
You can chose to start online either in June (SP4) or September (SP6).
Apply here
Download and complete your application form below. Please apply at least TWO weeks before the start date of your intended semester.
If you are applying through a registered UniSA agent click here to find an agent near you
Check out our FAQs
Find out more about our 2021 Online Study Abroad Program on our FAQ page.
Contact us
We're here if you have any questions.
ALREADY HAVE AN OFFER?
Is your offer for the standard study abroad program? Do you want to change to the Study Abroad package?
If so, get in touch with us so we can issue you a new offer.
WE LOOK FORWARD TO SEEING YOU IN ADELAIDE
Imagine yourself in Adelaide as soon as borders reopen. We can't wait to see you.
Follow us on Instagram to see what awaits you in Adelaide.

@unisastudyabroad