UniSA Malaysian student wins prestigious award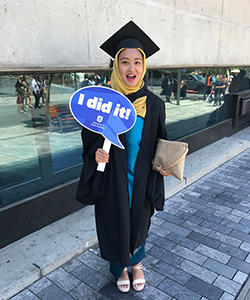 Not only does new graduate Suliana Shahrin have a lot to be proud of, she also has a lot to look forward to. As well as her recent graduation from the Bachelor of Clinical Exercise Physiology, at the University of South Australia, Suliana has been recognised outside of the University for her outstanding study achievements.

Suliana successfully took out second place at the 2018 Merdeka Awards and received her prize at a Gala Dinner organised by the Australia-Malaysia Business Council of South Australia. The awards offer a number of scholarships and prizes to outstanding final-year Malaysian students studying and living in Adelaide. The prestigious gala dinner, attended by representatives from both corporate and government organisations across Malaysia and Australia, celebrates Malaysian Independence Day while raising funds for charity. It was an exciting moment for Suliana to hear she had been acknowledged for the award.

"I was overwhelmed! I felt like all the hard work had finally paid off and I was humbled that my efforts were being recognised," she says. "Winning the award reinforced my desire to return back to Malaysia and start my own business to establish clinical exercise physiology (CEP) in the health care system."

As part of the awards, the Australia-Malaysia Business Council of South Australia aims to place winners into internships with key South Australian businesses, offering graduates the chance for professional development while fostering network opportunities between Australia and Malaysia. It is an experience Suliana knows will be beneficial to her career as she has already experienced first-hand the value of gaining industry knowledge through her clinical exercise physiology placements during her studies at the University of South Australia.

"I got the opportunity to apply the knowledge I learnt in class to real life clients and patients through my university placements. I completed five different placements over the four years of my degree which enabled me to reach the required clinical hours for my accreditation. It was an enlightening experience to see how Exercise Physiologists operated in different environments and companies," she says.

Now that Suliana has completed her degree, she hopes to be the first female accredited exercise physiologist in Malaysia and has already been offered a role in Australia through the contacts she made during her placement.

"The job I have recently been offered and accepted, was actually through one of the companies I had my placement with. I feel that my time at the University of South Australia has given me the clinical knowledge and experience to succeed as an accredited exercise physiologist," Suliana says.